Over the past couple of years, I have come to realize that it is really, really hard to cute pants for baby boys. I'll admit, I do have some
criteria
. They need to be made of natural fibers. It would be excellent if they came in colors other than blue, grey, or brown, because really, shouldn't a baby be in cheerful, happy colors? Here is the most difficult point: They need to fit over an ample-sized, cloth diapered bottom. Once a baby hits the 12 month size (even if they are only 6 months old), everything is cut so trim that it is nearly impossible to get them over a big baby bottom. There are a few companies that cut their knit pants a little roomier for cloth diapered bottoms, but they cost more than I would spend on a pair of pants for myself. And truly, I do not want to spend an arm and a leg on something that is really only going to fit for a few months. So what is the mama of a chubby, cloth-diapered baby to do? Get sewing, of course!
First up, some light-weight summer pants. These are the Huck Finn pants (for Isaac
Fynn
) from
Weekend Sewing
. They are meant to be ankle length, but I had to make the 24 month size to fit Isaac's waist and hip
measurement
, so they are regular pants length on him. I also made a pair that are red and white striped seer-sucker fabric (not pictured).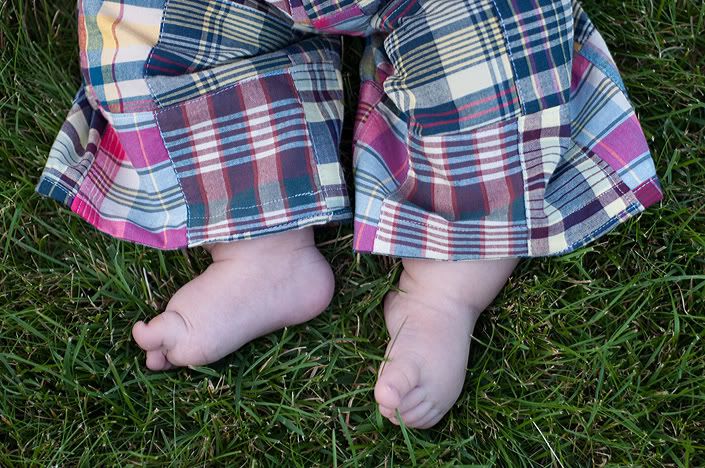 Next up, cool weather pants. I used the pattern for the Quick Change Trousers in
Handmade Beginnings
which are intended to be reversible. Instead of making them
reversible
, I lined them with flannel to make them super warm and soft inside for fall and winter. The pattern allows for growth by including cuffed pants legs that can be
uncuffed
as the baby grows. I made the 12 month size with the slight modification suggested
here
for
accommodating
the larger cloth diapered bum. They fit just about perfect right now over a cloth diaper, with some wiggle room if he is in a disposable, so I am trying another pair using the 18 month pattern with a 12 month length. I love how the pattern gives the opportunity to play with several fabrics. Cute and colorful with room to grow!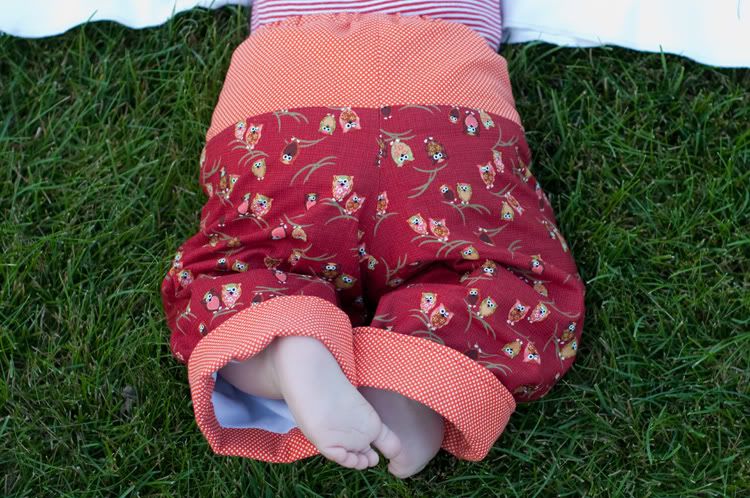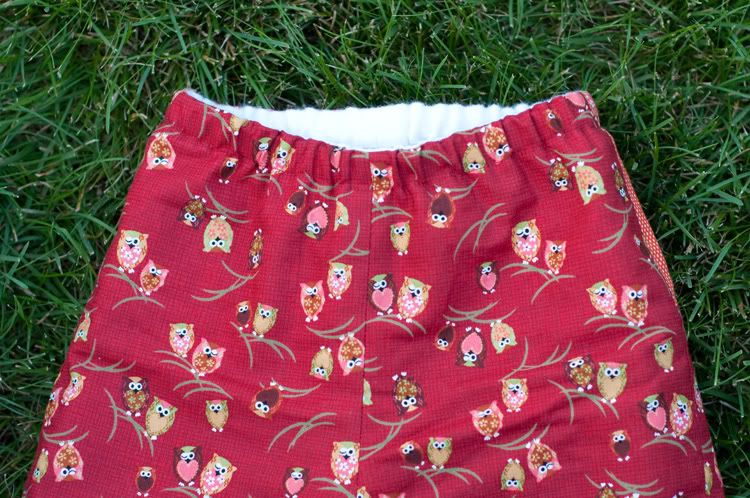 If I get adventurous enough, I may try to increase the sizing to make a pair or two for Noah as well. There is a stack of super cute fabrics just waiting to become pants for my boys.
~Jen