It is fall, and the beginning of a new journey for Noah and I. Yesterday was our first day in the Apple Blossom Playgroup at our local
Waldorf school
. While our home lives have been inspired by Waldorf philosophy from the day he was born, yesterday was the first time we had a chance to spend time with other families with similar lifestyles. It was a lovely morning beginning with the mamas working on a simple craft while the children played, followed by a shared snack and tea, circle time with fall-themed songs and
finger-plays
, and ending with free play outside in the garden. Isaac came along, of course, and sat contentedly on my lap through the crafting. He then tried to pull my
place mat
and tea onto the floor during snack time, and sat in the middle of the circle during our circle time as we "ring-around-the-
rosied
" around him. Did you know that you can do
finger-plays
with ones hand while holding a nursing baby with the other? Noah, who will play independently for hours at a time at home, was very shy and stayed close by my side through most of the morning. I am hoping that in the coming weeks he will become more comfortable as he plays and explores in the new environment.
To celebrate fall and this new beginning, I thought Noah deserved some special slippers to wear during our
weekly
playgroup.
This pattern
caught my eye some time ago. It has an unusual
construction
for a slipper, which are first knit as a long strip with two side flaps. It took quite a bit of planning to figure out where the different squares would end up on the final slippers so that I could make an actual left and right, and not just an identical pair. Thankfully, many people have made these before me and shared their helpful notes on
Ravelry
.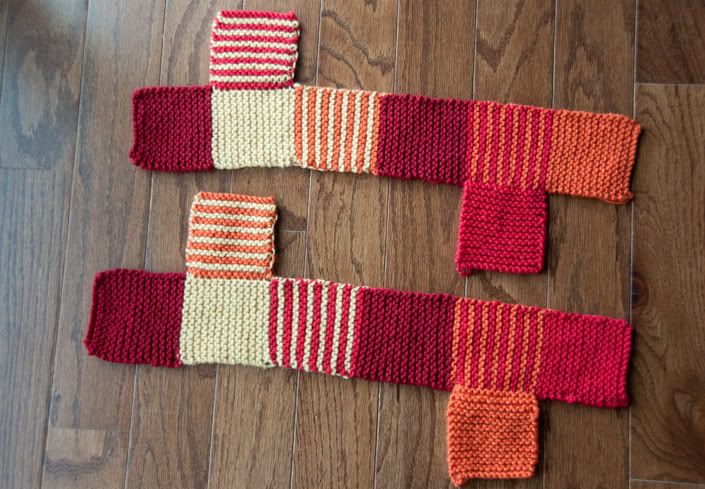 After knitting the strips, they are then sewn together in an origami-
ish
way. At that point, the slippers were big enough to fit my size 10 feet. However, after 3 cycles in the washing machine, they felted beautifully and fit Noah with a little room for growth.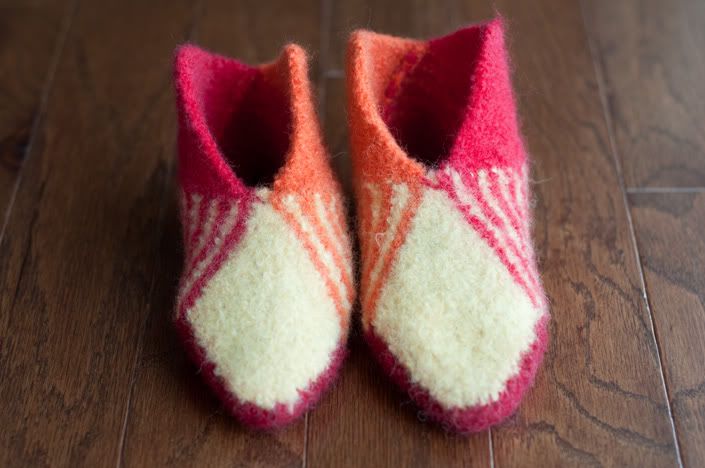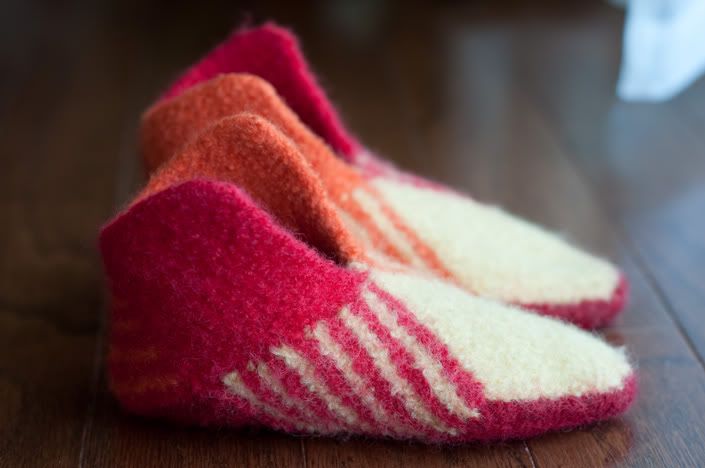 This pattern is great for using up bits and pieces of yarn. I made Noah's using
KnitPicks
Wool of the Andes, leftover from his knitted fruit and vegetables. The reds, yellow and orange are reminders of the changing colors of the leaves that will soon be falling from the trees. Welcome, Fall!
~Jen