We had our first
cumulative
snowfall of the season this weekend. Our Saturday morning plans were forgotten and we stayed snuggled indoors watching the snow fall. By mid-afternoon, the sun was peeking out and I headed to the stable where Winston and I had a beautiful, if a little chilly, ride around the
snow covered
pastures.
The next morning we celebrated third Noah's birthday with a few gifts and some carrot cake. Later that afternoon, we bundled up and went out in search of our Christmas tree. The warm glow cast upon the tops of the
snow covered
trees by the afternoon sun was really beautiful.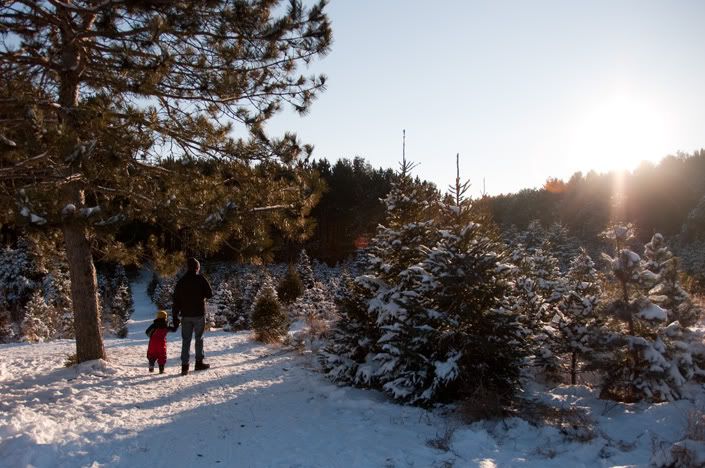 We brought along a small sled to pull Isaac in and he was happy as long as we kept moving along. Of course, Noah also wanted to ride in it before long.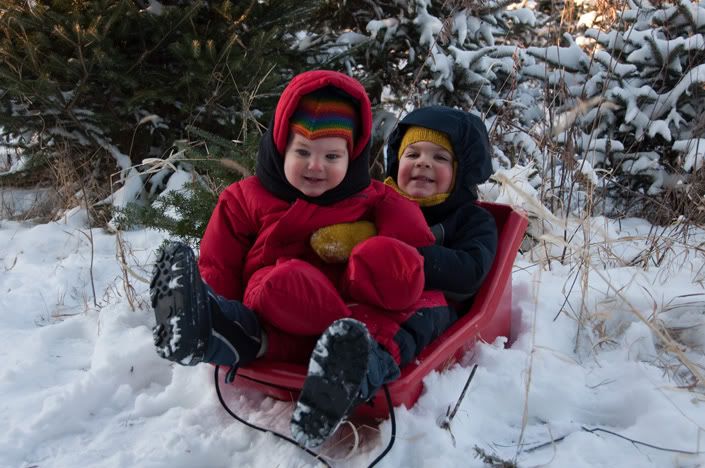 Alas, there was only room for one bundled boy in the tiny sled. And with neither of them able to move very well in their puffy snowsuits, Isaac soon toppled head first into the snow...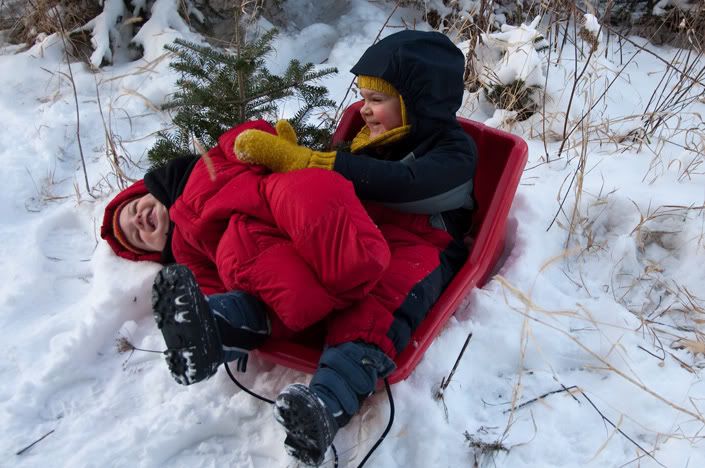 But came up smiling nonetheless. He got picked up by Curtis, who immediately set off again in search of the tree. They were truly on a mission. I ran along after them, pulling Noah in the sled, zipping between narrow rows of trees, and knocking snow off the low hanging branches onto Noah who was laughing the whole way. We finally found a beautiful tree, just in time too, for the the sun and the boys' patience (
OK
...probably all of our patience) were beginning to wane.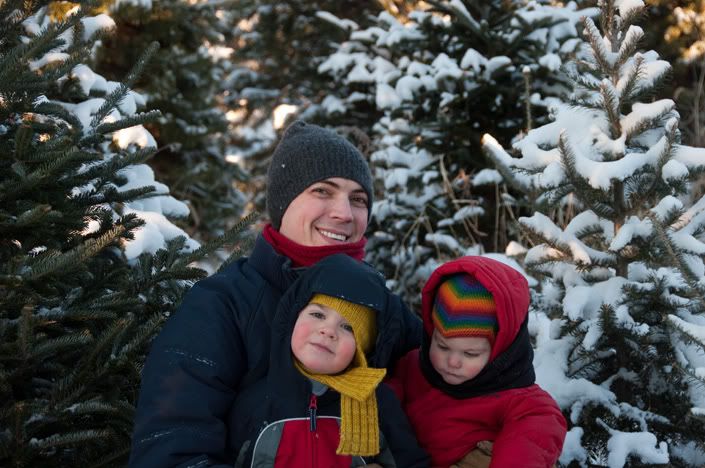 Curtis did a fabulous job cutting down the tree while I warmed up Isaac's nose with kisses and Noah had a small meltdown because he fell down and couldn't get back up. We had a good laugh while dragging the tree back toward our car when Curtis asked Noah if he was doing alright, and Noah, who answers "Yes" to almost any question, said without hesitation, "NO!" We managed to get our tree back to the car and tied down tight (and by
we
, I mean Curtis. I stood in a barn with the boys warming up). On the way home, I think I saw a look of longing in Curtis' eyes as we passed the Christmas tree vendor in the church parking lot with all the trees pre-cut and lined up, snow-free and ready for purchase. Between the cold noses and toes, and some minor meltdowns, I was beginning to think my idea to cut our own tree had been a flop. But then, as we got home and piled out of the car, Noah said, "That was fun!" And that right there, made it all worth it.