While the days are getting shorter and
colder
, I have been thinking a lot more about
warmth
. We are reading several articles in our Waldorf playgroup about the importance about protecting babies and young children from the elements and keeping them warm so that more of their vital energies can be utilized for growth and development, and not heating their little bodies. One of the articles we are reading can be found
here
. More about dressing babies specifically can be found
here
, as well as in the longer article
here
. While I knew about this some time ago, and make an effort to dress the boys appropriately when we are outside, I feel that this in an area where I sometimes slack-off when we are
insde
. I am noticing however, as it gets colder, that even my fingers and toes are cold when we are in the house. If I need another layer and a pair of wool socks to keep warm, surely the boys would feel more comfortable in more layers as well.
Naturally, when I think about warmth, I think about wool sweaters, vests, hats, and slippers. And when I think of those things, I think about knitting. Thus, for every degree the temperature drops, my knitting "to-do" list grows longer. First off, Noah was in need of a new hat. I searched and searched for a pattern for a hat that would keep his forehead, neck, and ears warm. I ended up combining a few patterns to come up with this hat/scarf combo (shall I call it a
scat
?) knit in super soft
Malabrigo
wool (
Ravelry
notes
here
). It seems to be doing the trick and I love the golden color.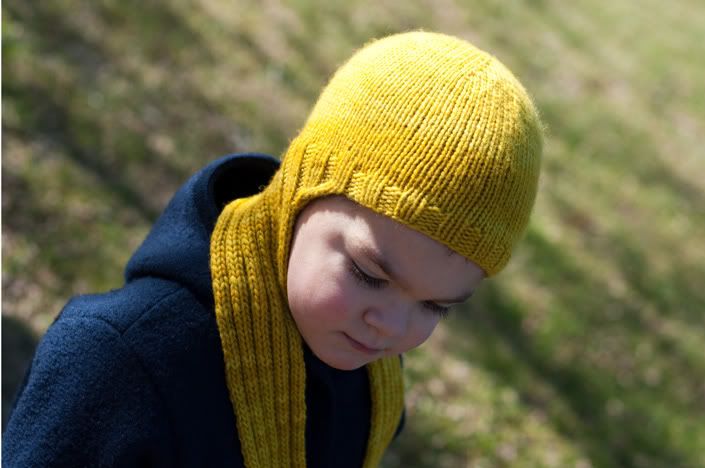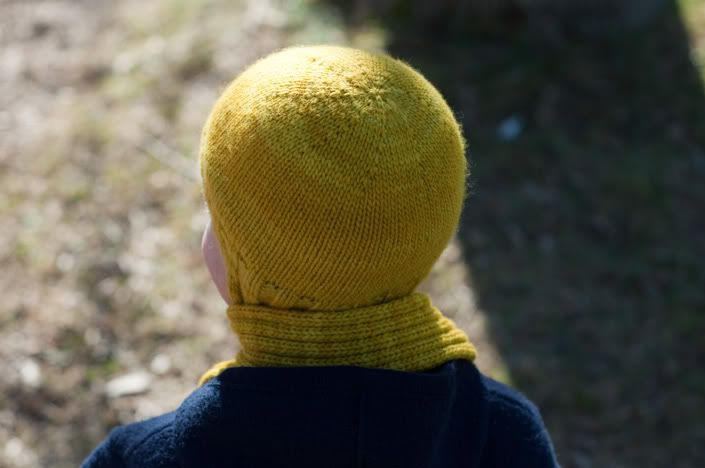 I am finishing up a pair of mittens to match, and also want to make each of the boys more vests for layering over their cotton shirts. So much to knit, and so little time. Actually, the past few days, I have been able to sneak in a few minutes of knitting here and there while Isaac is
awake
. He has learned to inch-worm his way across the floor, which has led to him being able to play independently for short periods, scooting around to get the toys he wants without needing to be constantly entertained by me. (That is, when Noah isn't snatching the toy away just as Isaac gets to it...but we are working on that.) Of course, he is also now able to creep across the floor to
wherever
I happen to be and demand to be picked up by yanking on my pants or biting my feet. Those blue eyes, when combined with the
desperate
mama-mama-ma
of a teething baby are nearly impossible to resist.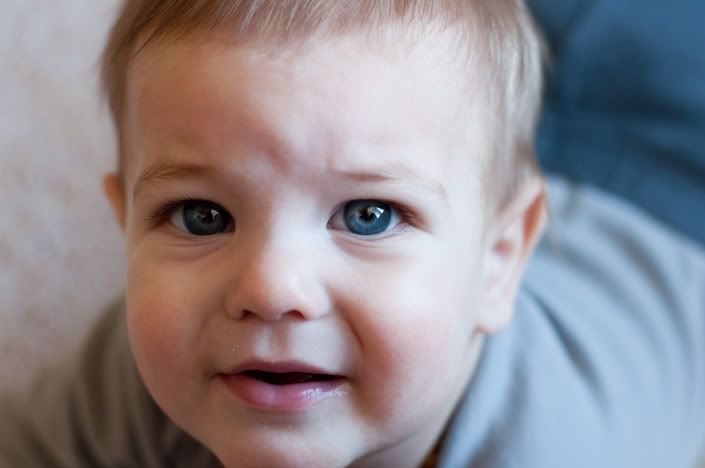 And when the fussing gets really bad, we bundle up and head to the park for some swing therapy.